Everyone loves the zesty, slightly sweet homemade barbecue sauce, in this post, we have shared the 
recipes
 of 
Barbecue Sauce
, Marinates, and Dip that you can make at home. These are very simple recipes and every time you can use a fresh sauce instead of 
bottle-packed
.
---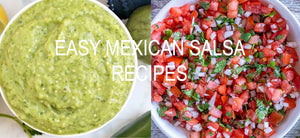 This is another post for Mexican salsa and sauce recipes, we have tried to cover almost all famous Mexican recipes. So, let's try some awesome recipes. Mexican Brown Mole This classic brown mole makes a wonderfully rich topping for wet burritos and tamales and a dipper for flautas. Ingredients Yield – 3 cups, prep time
---
Curry is the most complicated but delicious part of any dish, 
two main ingredients make
 a perfect curry that is accurate measurement and cooking time. These two ingredients make any type of curry amazingly. Some curries need curry powder, and some don't, we have used different types of 
curry powders
 in this curry recipe. So, let's check out
---
Our 
Mexican salsas
recipes
 are very easy to make and ready in minutes, these recipes are delicious and nutritious, it's perfect served with tortilla or nachos chips or as a topping over your favorite Mexican food, like tacos, burritos, taquitos, and so forth.
---
Our easy and tasty 
chicken recipes
 are great for 
busy days
 and Sunday 
parties
 and will show you how to make chicken at home with a few ingredients, less effort, and minimal time. For easy and fast cooking, we have used a pressure cooker for cooking, here are some cooking tips.